COVID-19 has made a major impact on an international scale, forcing governments and companies to shut down operations, for example, at construction sites, logistics centres and restaurants or in public services, education and elderly care. Resuming these operations poses the risk of another outbreak.
Contact tracing applications for smart phones have been made available to the public. The data collected by these applications is given to healthcare professionals. However, the use of these applications is quite limited, for instance, in Singapore, to only 13% of the population, making the data of little value.
Similar challenges are faced by everyone: how to resume operations while keeping employees safe? How to not only monitor the working environment and the potential contacts between employees but also work towards minimizing those contacts? And in the event of a COVID-19 infection, how to make sure that all employees that have been in contact with the infected are quarantined, to ensure that everyone else can continue working? How can subcontractors and customers visit company premises in a safe way?
We think that a better solution for COVID-19 social distancing and contact tracing is needed, one that
covers all individuals: employees, subcontractors and visitors

makes the data on social contacts readily available and offers insights on how to improve the safety of work

only collects data at the company premises

is simple to use and deploy

is cost efficient

is available today

provides occupational healthcare means for fast contact tracing and defining the quarantined personnel in the case of an infection
It can be used in different modes
anonymously, where data is only collected if there are

infections

for social distancing analytics

for discovering risk locations
Based on these needs from our customers, we have created a sensor-based solution called Kaltiot Contact Tracker. It uses the well-known BLE (Bluetooth Low Energy) technology, which is also used by other similar applications.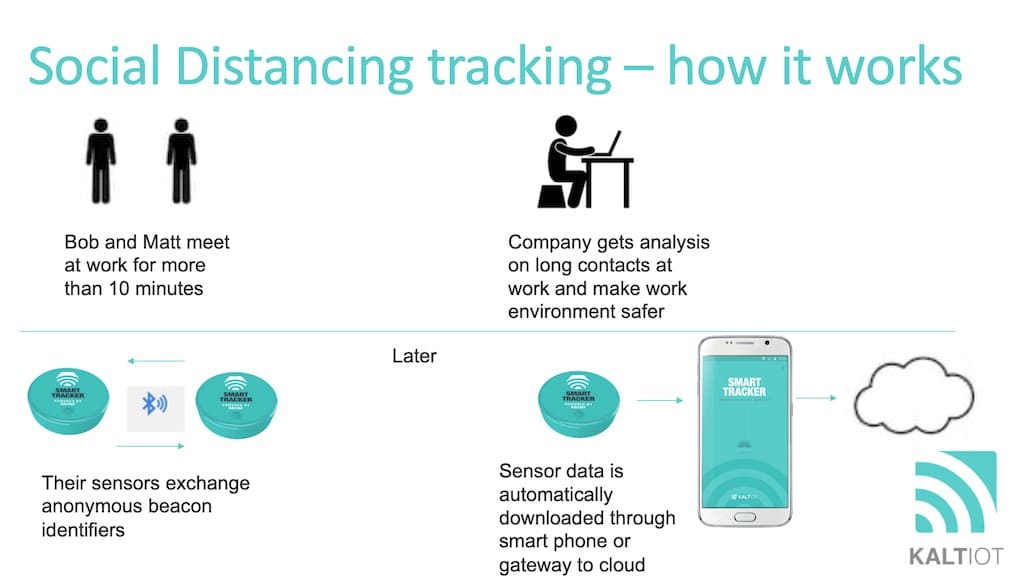 Each sensor broadcasts an identity and listens for and stores identities of other nearby sensors. This data is collected by the Kaltiot Smart Tracker application and uploaded to the cloud, where, based on this information, a risk profile for each sensor can be calculated depending on the duration and closeness of other sensors.
For years, Kaltiot has been using the same technology for indoor positioning. The solution is proven to work and can be deployed today – in fact, it has already been deployed to some of our customers.  
Read about our indoor location tracking solutions.
Deployment is easy. You can think of it as distributing access control tags to each employee, subcontractor or visitor. This can be done completely anonymously, or a sensor can be associated with a specific person, depending on what is agreed upon. At the workplace, employees can be required to wear the tags in a visible place.
In addition, employees can leave their tags in lockers when leaving the workplace so that they will only be tracked at the workplace, during working hours. They can be notified if they have been impacted by a known COVID-19 infection.
For occupational health care, the solution offers a tool for contact tracing. Upon confirming an infection, occupational health care can download the data from the sensor and get a list of other sensors, their risk profiles and times of contact.
If your company is facing challenges resuming operations due to COVID-19, we suggest that you contact Kaltiot.