IOT monitoring services for construction sites
Track ambient conditions on the construction site in real time, find equipment easily, get site logistics under control and track worker location all with Kaltiot Smart Tracker. Project managers and workers can get a clear picture of what is where, how drying is progressing, can we paint or install flooring, and how much time is being spent on various jobs. More accurate data means that you can increase efficiency and speed up the project timeline without rushing.
Track temperature and humidity
Monitor temperature and humidity in real-time using our connected sensors.
Benefits
Ensure the correct work conditions
Temperature and humidity can vary significantly between units even on the same project site. Ensure the conditions are always correct for each stage of work, whether it's installing a water barrier, laying tile, or painting.
Optimize heating and cooling
Detect issues with your heating or cooling system, enabling you to move heating/drying equipment as needed and fix insufficient airflow or incorrect pressurization.
Effortless documentation
No more manual checks with handheld sensors! Export data whenever you need.
Track worker location
Track the location of workers using a helmet-mounted beacon, keychain tag, or smartphone app. Data can be anonymized and is fully GDPR-compliant.
Benefits
Plan more accurate project schedules
Get a clear picture of how much time your electricians, window installers, painters, and other workers take to complete a task. More accurate estimates mean you can reduce time and speed up the overall project schedule without rushing.
Identify obstacles to getting work done
Analyze worker location data to identify time spent waiting, tasks being completed in the wrong order, or where workers are at when they aren't at their scheduled location. For example, they might be searching for materials.
Fire safety
Meet Finnish fire safety requirements for construction of 8-story and higher buildings. Know how many people are on each floor at any time. Learn more.
Track equipment location and usage
Track the current location of important equipment and tools, as well as usage time on a daily and weekly basis, throughout your project site. Our asset tracking handles both indoor and outdoor location as well as underground and concrete structures.
Benefits
Save time on site
Every large project site has shared equipment like scissor lifts, bucket lifts, movable workbenches, and heaters. With Kaltiot Smart Tracker beacons, workers can see matching assets on a floorplan map right from their smartphone.
Centralized management
The project management team can see tracked equipment by category from a central location. Easily stay on top of what equipment is located where, determine if more equipment is needed, and locate individual machines for scheduled maintenance or repairs.
"We wanted to find out where the scissor lifts were on the job site. Every lift is maintened once a week, and to maintain them we had to walk around and find them. The larger the project site is, the harder it is to find each lift. On one large shopping mall project site, two workers spent two full days looking for a single lift."
Track materials
Construction site logistics is easy with reusable beacons. You can track when materials arrive at the job site and where they're located on site. The beacon can be attached at your off-site warehouse or at the factory, and removed when the pallet or object reaches the point where it will be used or installed.
Logistics tracking is available for pilot testing at this time.
Benefits
Reduce delays due to missing materials
Did a pallet of brown flooring show up in unit A12 instead of gray? With material tracking, your installers can find out where the correct flooring is and get to work.
Centralized logistics
The project management team can locate missing materials without needing to walk around the entire site searching. See what critical materials have been delivered from the warehouse, what's in-transit, and what's in stock at the site warehouse.
Use cases for different types of construction projects
Kaltiot IOT trackers and sensors can be used in any combination. You can choose whether you need just one specific use case or a fully connected worksite. Our Smart Tracker system is available for pilots as well.
Traditional construction sites
A simple and affordable solution for tracking environmental conditions throughout the construction project.
What to monitor
Setup
1 sensor per 2-bedroom or smaller apartment
Easy to use dashboard
Data export for official documentation
Lean construction projects
Connected sensors from Kaltiot are an integrated way to reduce different types of waste in construction and run a more efficient, profitable project.
Equipment location tracking
Materials arrival and location on site
Time spent per work stage and unit
Setup
1 sensor per room/space
Easy to use dashboard
Integrations possible with project management software and BIM
Data export for official documentation
Real-Time Tracking for Fira
Fira wanted to find a solution that could provide environmental data for the buildings under construction, as well as to monitor the employees' progress through different work phases. Real-time data is used to see how surfaces are progressing after painting, and at what stage Fira can to continue with the next steps in the timeline.
Large industrial and commercial sites
A simple, efficient way to improve construction site logistics that can be used with all brands and types of equipment and materials.
Equipment location tracking
Materials arrival and location on site
Setup
Gateways at on-site warehouse and other key locations

1 beacon per object to be tracked

Attach beacons to key materials before sending to the job site

Kaltiot dashboard
Tracking elevator components
Kaltiot developed two successful pilots​ for KONE using hundreds of tracking beacons. One of the sites alone, the Tripla shopping mall, consists of 85 000 square meters of shopping space on top of a 5-story underground parking garage. Smart Tracker beacons were used to track elevator components and monitor conditions during transport, and within the site until final installation.
High-rise construction fire safety
A cost-effective, ready-to-go solution to improve fire safety in high-rise construction. If no one knows how many people are on the site, someone might get trapped without anyone knowing they need rescuing. For buildings of 12 or more floors in Finland, this information must be available in real-time. Kaltiot is the first provider to offer a ready-to-go solution that meets these requirements.
 Setup
Gateways at key locations around site

1 beacon per worker helmet, keycard, or other item

Kaltiot dashboard
How it works
Kaltiott Smart Tracker is already used for fire safety on multiple construction sites in the Helsinki metropolitan area. Learn more about how it works.
See Kaltiot Smart Tracker in action
Easy to use, affordable devices
The Kaltiot Smart Tracker IOT devices can be placed around your job site where you need them, are easy to set up and use starting the same day, and can be removed when you don't need them any longer.
Individual devices are small and affordable. Pricing is flexible based on how many devices you use.
The Smart Tracker service can handle from dozens to 10,000+ devices per site without a problem. It can also handle multiple connected sites.
Our sensors, beacons and gateways can be installed by gluing, taping, screws, and other methods. They are very lightweight and can be placed on ceilings, walls, equipment, pallets, and more.
Smart Tracker Cloud Dashboard
The Smart Tracker dashboard tells you everything you need to know. It collects the sensor data in one place. As part of your project, we can set up a custom dashboard to show exactly the alerts, key metrics, and changes you need in the format you need for your project.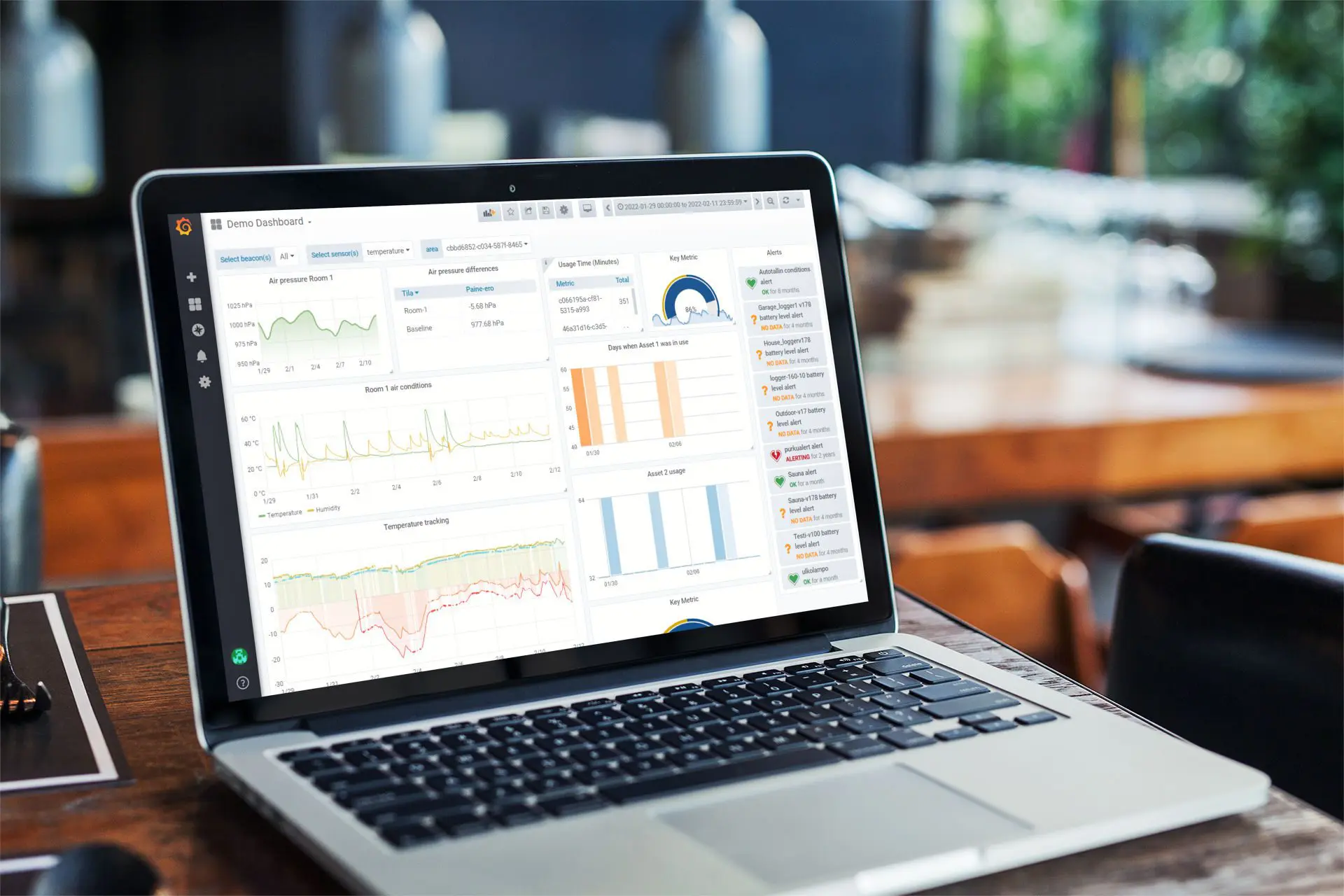 Features
Custom dashboard per project site or for multiple projects combined
Track exactly the metrics you need
Real-time
Accessible from any device
Custom alerts
Multiple users
Secure data storage
Download all data at any time
High-rise construction is becoming more common in Finland, especially in the Helsinki metropolitan area, where 16-story residential buildings are becoming part of everyday life. In the Kalasatama neighborhood there are multiple 100+ meter apartment buildings....